WELCOME TO THE HOW NOW? PODCAST
WHERE WE TALK ABOUT HOW TO LIVE IN THE NOW!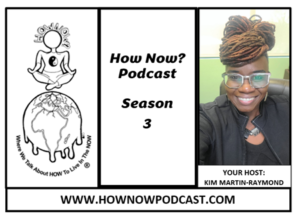 How Now? is a podcast that focuses on HOW we live in the NOW.  The show will feature guests from all walks of life who express how they are living in the now, despite the pandemic and its affects.  They will share their perspective and insight on what they have experienced during the pandemic, and how they are navigating through it in order to experience peace for themselves and those around them.
"I believe that sharing our experiences are a vital part of how we can do just that.  There is no hard and fast solution to this pandemic and its affects. We can only create new and innovative ways to establish safe spaces for individuals to express their emotions and to know that it is okay to do so in non-threatening ways.   How Now? strives to be a platform where we can promote learning, understanding and growth, that will lead us to a better quality of life in these troubling times."          Kim
Want to Listen to the Latest How Now Show? Click on One of the Banners Below
(Remember...you will need to sign in or sign up with a registered account!):









---
Be sure to click "Follow" for alerts on all upcoming shows and click like, share, or leave a comment!
Click on the banner below to watch the show!

"A Life Worthy of Death"
---
---
Previous Shows
September 20 - A Life Worthy of Death
September 13 - The Journey Continues
September 6 - Going for the Gold
August 30 - Systems for Work-Life Balance Success
August 23 - Grounding for Healing
August 16 - Creating a Wellness Mindset
August 9 - Beauty for Ashes
August 2 - One Determined Vegan
July 26 - The Gift of Opportunities
July 19 - Helpful Living
July 12 - Paradigm Thinking: The Road to Success
July 5 - The WISE Way
Click 

here

to watch our previous episodes!
Want to be a guest on the show or have questions about How Now?
Want to Support the How Now? Podcast?

 
CashApp:  $HowNowPodcast 
 Enjoying the Podcast?  Leave a comment below!
---