Kim's 3-Book "From the Sidelines" series has helped her clients navigate through life's challenges, so they can be inspired to transition and transform.  In addition to her 3-book series, Kim also has a book she co-wrote with Sheronda Barksdale entitled, "The Gratitude Experience", as well as a book of poetry entitled, "Love's Mosaic: My Moments in Love".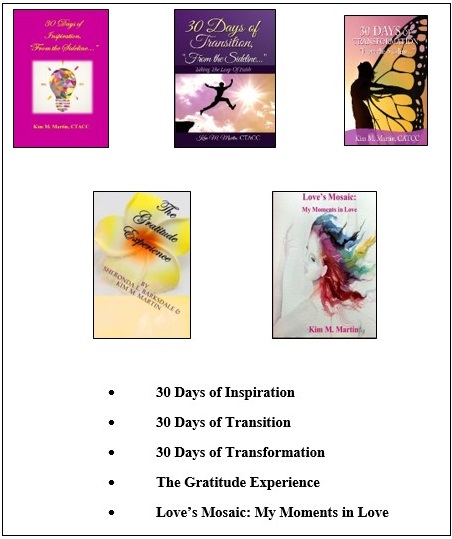 Reader's Favorite FIve-Star Rated
Kim's 3-book "From the Sidelines" series have helped many of her clients navigate through challenges they have experienced in their personal and professional lives.  The third book in the series, "30 Days of Transition...From the Sidelines", earned her a 5-star rating by Reader's Favorite.
Get Your Copies TODAY!
Click on the "Purchase My Books" link to follow Kim and purchase her publications online!